Newest, beautiful, single women now added for week of Wednesday, 27 September, 2023 - Tuesday, 3 October, 2023
Your opportunities here are truly worldwide. Explore our site deeply to see how you can realize that!
About Moscow Ladies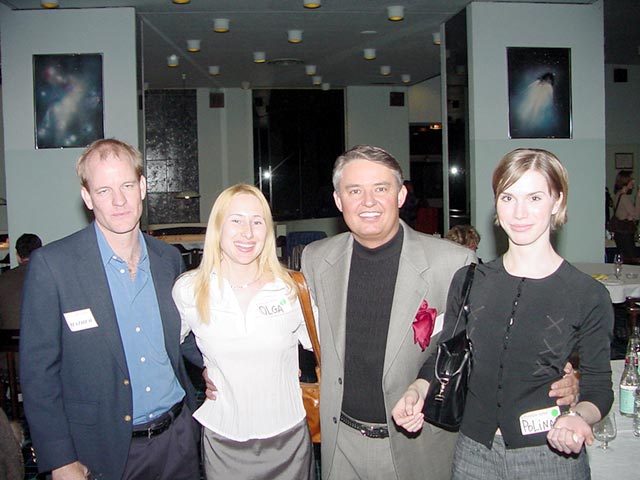 Moscow Ladies is one of the world's largest and most respected foreign singles' introduction and tour services. Established in 1995, we were among the very first international online matchmakers and singles' tour companies and have grown to be the most reputable and hands-on company among the leaders in the singles' industry today -- may it be domestic or international.
Our site mainly focuses on the beautiful, single women of Moscow, Russia. Additionally, we maintain offices within the country and conduct regular international singles' tours each year, also individual tours, 365 days a year.
Once you register for free at Moscow Ladies, you will not be limited to exploring only the stunning single women from one continent. You will also have access to other single lovely ladies from around the world because of our worldwide organization. You can also find out more information like how to meet women in Moscow with the extensive information provided throughout our website.
Our corporate headquarters are located in the United States. We also own and operate offices in all of the cities in which we conduct our world famous singles' tours, with over 100 corporate employees worldwide. For over two decades, we have developed a network of hundreds of affiliate matchmaker and marriage agency offices spanning four continents and nearly 20 different countries. The doors of all our corporate offices are always open. Our phones are always answered within a few seconds only. That being said, we invite you to visit or call us whenever you wish during normal U.S. business hours.
Moscow Ladies is the product of endless hours of research, two decades of hard work, a multitude of talented people, and a vision of a service that can facilitate users from all over the world in meeting each other for fun, friendship, and marriage. That particular vision has now become a reality, as we are currently responsible for hundreds of marriages each year. As a matter of fact, the founding partners as well as the staff of our company, have met and married their beautiful foreign brides using the services we have developed.
Our network and services are no stranger to the media, garnering more worldwide attention than any other company in the singles' industry. In fact, we have been featured on 60 minutes, Inside Edition, The Today Show, Nightline, Dr. Phil, WE TV, National Geographic (Bachelor's Abroad), The Maury Povich Show, The X-Show, as well as news shows on all the major networks including: ABC, CBS, NBC, FOX, A&E, and the BBC, to name a few.
Few of the print media platforms which have featured stories about our services are: TIME Magazine, The Washington Post, The New York Times, Maxim, Penthouse, Marie Claire, Saturday Night Magazine, St. Petersburg Times, The Philadelphia Inquirer, The Arizona Republic, The Sacramento Bee, among many others. We were also featured in several radio programs, including Loveline and the USA Radio Network.
Moreover, we have been the subject of numerous documentaries, including "LoveMe: The Documentary" on Netflix, as well as the full feature film "Two Brothers and a Bride".
We sincerely believe that after all is said and done, the most important factor in this service-oriented business is trust. The men and women who submit their names, personal information, and photos must trust us to display and protect them properly. You, as the user, have to trust that the member's information you are receiving is current and from people who genuinely want you to meet someone for a special relationship.
We understand our responsibilities and feel certain that we will gain your confidence as you become familiar with our system and begin using it. The very first step to take is to register now for free without any obligation.
Our infrastructure and customer service are unmatched in the singles' industry today. It is far from a fully-automated, mindless machine simply putting out data back and forth. Our infrastructure is backed up by hundreds of real, live matchmakers worldwide who are all working for you.
If you ever have a problem with our system, employees, or any of the Moscow women you meet or correspond with -- PLEASE CALL US! We are completely committed to serving you in the best way we can. It is our number one priority, and we will do everything within our power to ensure that you are satisfied!
We are one of the very few established companies that offer both group and individual singles' tours to destinations all over the world, so that you can actually meet, date, and eventually marry the woman you have been communicating with.
If you have any questions, concerns, or comments about our services, again, please feel free to contact us. You will find our phone number and contact information at the bottom of nearly every page of our website. Once again, we sincerely appreciate the fact that you have considered using our service. We look forward to assisting you in your search and perhaps, changing your life forever.
There is NO credit card required and there is absolutely NO OBLIGATION in any way!
*All fees, offers, discounts, and bonuses' terms and conditions are subject to change at any time. Conditions apply. For more information please review our Terms and Conditions and Privacy Policy. Full and complete details about all of our services are available from your members panel after your free registration.
Newest, beautiful, single women now added for week of Wednesday, 27 September, 2023 - Tuesday, 3 October, 2023
You have to meet the women to marry them! What other international dating site offers you numerous opportunities to do that?